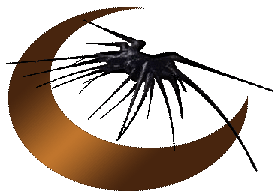 ---
I got this really great and free flame fractal editing/rendering program called Apophysis and I've been making some art objects with it, occasionally in conjunction with Photoshop. I make up for not having much artistic skill by giving the resulting pictures really pretentious names.
Something in the Air Tonight. Another Fun With Photoshop piece, except this time I grew up a bit. This is a wallpaper(in that it's 1024 by 768) put together from three things - a nifty Astronomy Picture of the Day, a screenshot from the ballet Blue Suede Shoes, and a Phil Collins song on infinite repeat. Text copyright someone else.
Stiletto, part Four. This is the image from the Fourth part of the html version of Stiletto. I had a fun time making this image, so I'm going to take advantage of the fact that this is MY web page to go off on a tangent for a while. Okay?
Cool, then. I got the idea for this image from Susan Ching's stuff on impromanga.org, especially her work on Point Blank Assassin(Note: that's where the "Good morning, [Hy-de]" comes from.) I wrote this part of the story completely in dialogue format with the intention of doing something like this. The pic of Mulder I grabbed from one of those X-Files fansites out there somewhere, and it's from the ep Paper Hearts. Hey, I needed something with angsty Mulder images, and I got one... ahem. So, yeah, one pic, used the monochrome filter in Corel Photo-Paint, exported to photoshop, add lots of text effects, and place on black background. Voila. I really think it's the text effects that make it, though. Oh, yeah. I'm a writer, not an artist. Yeah. Go words.